Android Pie, the 9th version of Android OS that Google announced last year. Lot of new cool features of the new android pie were announced in the Google I/O. Smartphone manufacturers then started rolling out the version to their devices.
The first devices which got the latest android os on them were the new Pixel 3 series, then it all followed by OnePlus, Xiaomi, Samsung, Nokia.. If you bought a new recently launched Android device, you probably got the Android Pie on it. There are a lot of new improvements and bugs too after the update. So, let's jump into them..
Features of Android Pie:
1.Adaptive Battery:
This feature is very exciting for you if you use your phone more frequently and there are a lot of apps. Adaptive battery will learn how you use the apps on your device and suggest you to restrict the apps which may cause battery drain more rapidly.
2.Adaptive Brightness:
Adaptive Brightness is really a great feature, if you would like the automatic brightness mode in Android previous versions. This time its really automatic, that you don't need to do anything. Your screen brightness level will automatically decrease or increase to your environment. That means when are outside, your screen light will maximize and when you are reading something while sleeping, it will decrease its level. And you can also adjust the brightness, this way it will learn your preferences.
3.App Actions:
App Actions predicts what you're about to do, so you get to your next task more quickly. If you do something like connect your headphones, the playlist you were listening to earlier is front and center. It will only work if you are using the default Google Launcher. It will suggest some actions depending on your recent activities. Like when you connect your earphones, it suggests you a recent playlist or the most played one.
4.Digital Wellbeing & App Timer:
Digital Wellbeing shows the time spent on the apps and how often you use your device. It's a great feature if you are more addicted to apps like WhatsApp, Facebook, Instagram or any other app. It gives you option to set the timers for your most used apps. And when you set the timer for an app, after the time ends that app is paused for rest of the day. You can see the total time spent on the device by date and time.There is a feature called Wind Down, you can use this to disconnect from your phone and all interruptions while you sleep.
5.Slices:
Slices feature is a unique feature included in the Google Search, that when you search, shows the parts of that app that you can directly go to clicking on the informative window. For example, when you search lyft, it shows you the time and price for your saved bookmarks or recent rides. You can directly book a ride just taping on the options.
6.Smart Text Selection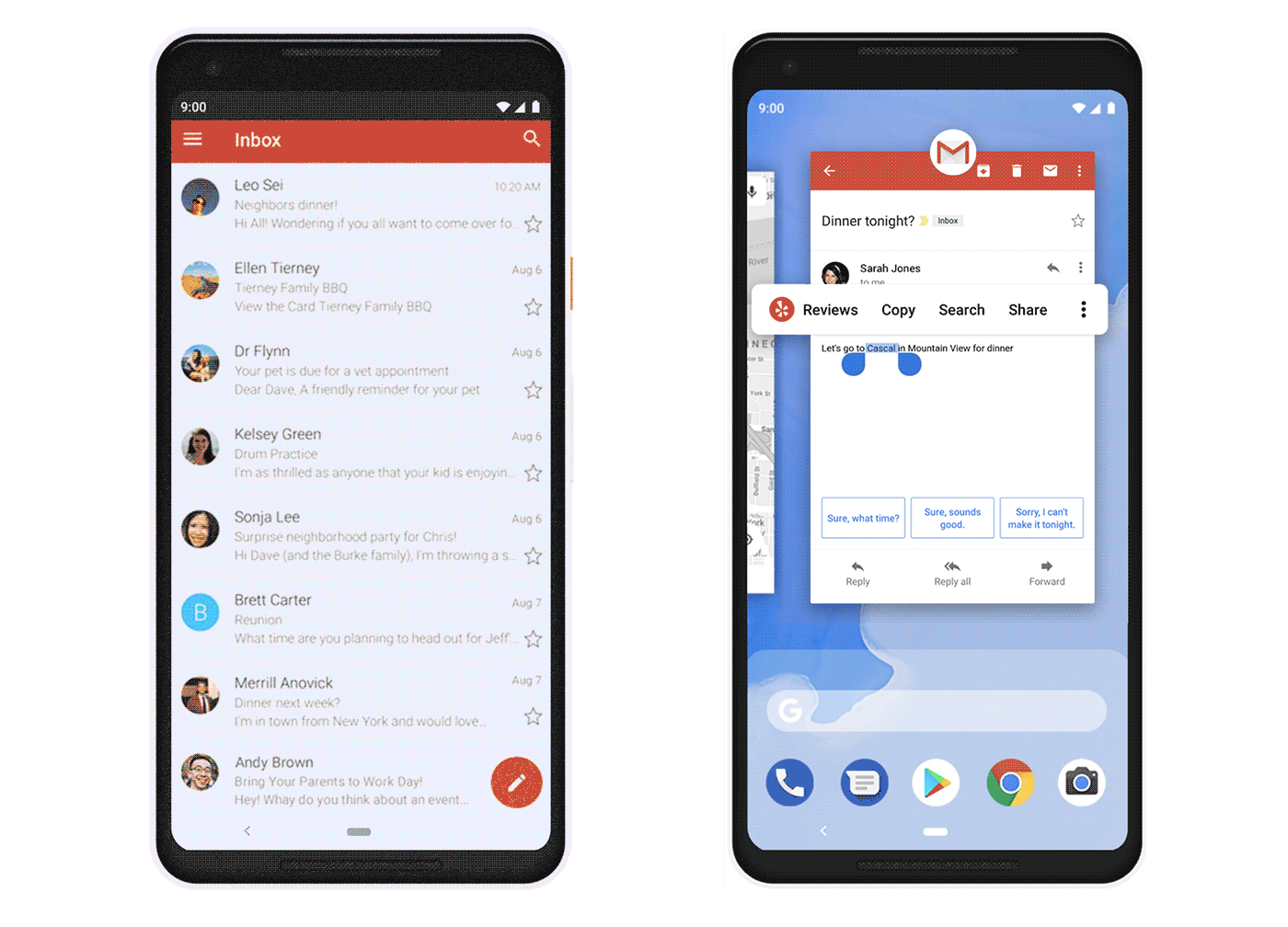 On Android Pie, when you try to select some text, you can see a magnifier like option that zooms into the text. And you can easily select and see all texts clearly.
7.New Screenshot Shortcut:
Say goodbye to the old Power+Volume Down option to take screenshots on your device, now you can just long press the Power button to show the new menu for screenshots.
8.New Gesture Based Home Button:
Now you can have a gesture based home button just like on iPhone X or Xs series. You can enable it by going into Settings>Gestures>Swipe up on Home button and then you can swipe up to go to Home, swipe up and hold for recent apps.
9.Easier Screen Rotations:
Get more control over your phone's display rotation with a simple button on your navigation bar that confirms when you'd like to change the rotation on your device – even when your orientation is locked.
10.Notification Details:
The notification settings page now shows the app notification sent time and frequency. You can also see how many times an app sends you notifications and with notification times.
11.Lockdown Mode:
Long press on the Power button and you can choose the Lockdown option and then all the fingerprint unlocking, smart lock, notifications on lock screen will be disabled. Then you can use the pin code to unlock the device. This feature is not enabled by default, to use this go to Settings>Security & location>Lock screen preferences.
12.The New Volume Controls:
Click on the volume buttons, you will see a new improved volume controls option.
13.New Recent Apps View:
Previously the recent apps were vertically listed, and now when you press the recent navigation button a horizontal listed apps that you will see. This feature is very easy to manage, and switch between apps.
Miscellaneous:
All New Settings App
Private DNS
New WiFi preferences (Go to Settings>WiFi>WiFi preferences)
Apps always use HTTPS by default for connection
Screen cut-outs (Notch like feature under Developer options>Simulate a display with cutout)
157 New emojis
New System Animations
A little more faster connection speed
Longer battery life
Read more about all these features here. If you have any questions, or want to discuss about some bugs write in the comments below.